Accredited Training Centre
Gail is a qualified teacher, assessor and internal quality educational assessor who has taught holistic therapies in further education for eight years. She then went on to set up The Mindfulspace Wellbeing Company in 2016, which is her own accredited training centre. She has qualifications in Buddhism, Bach Flower Essences, Inner Child Therapy, Three Principles Coaching, mindfulness, meditation, Crystal Therapy, Qi gong and is a Reiki Master Teacher. She offers small bespoke, professional personal training courses. She specialises in training and mentoring adults who are wanting to change careers or up-skill within the well-being industry.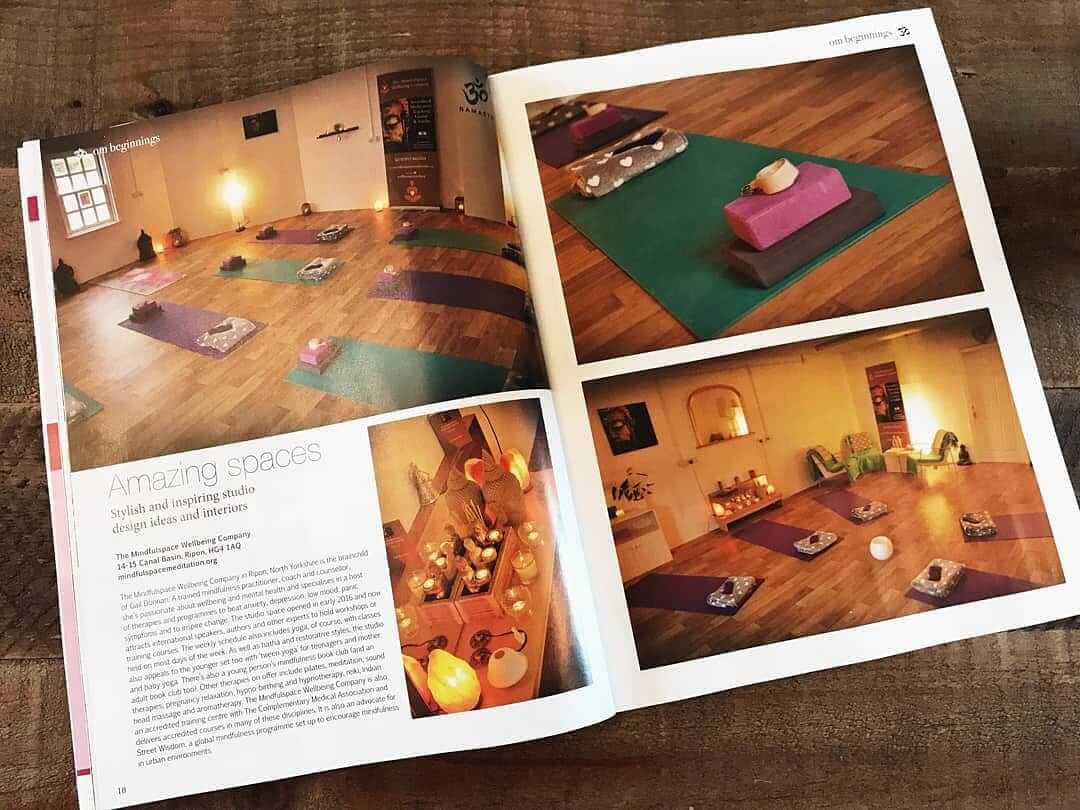 The training centre has a private, waterside location in Ripon, North Yorkshire. It has free private parking for learners, clients and guests. Gail writes and designs all her own courses of which are all insured and they are accredited by The Complementary Medical Association of which the training centre is a member and a registered college. The link below will take you to college profile on The Complementary Medical Association's website.
 paCourses and prices 2020
Online Mental Health First Aid & Wellness at Work Diploma – 
(16 hours study)
In 2018 the health and wellness market in the UK was valued at 23 billion euros (Statista) and it is not showing signs of slowing down. Shifts in attitude surrounding mental wellness are at the forefront of personal and corporate cultures; we are embracing infusing well-being techniques into our daily life.  Corporations and organisations are making staff wellness a top priority and working in partnership with well-being professionals to improve health and well-being in the workplace.
Four out of five businesses have no staff trained in mental health first aid or work related stress. Over 11 million days are lost at work a year because of stress at work (HSE). Employers have a legal duty to protect employees from stress at work and be able to ensure employees have a safe working environment while taking reasonable care to prevent personal injury (mental or physical) that may arise in the workplace.
This accredited two day course covers:
What is mental health first aid and why is it important?
What is the role of a mental health first aider & Wellness Advocate?
The impact of mental health issues in the workplace
Stigma and discrimination
Promoting a positive work culture
Mental health issues – Anxiety, depression, obsessive compulsive disorders, eating disorders, alcohol and drug dependency, panic, fatigue, self-harm, and personality disorders
Spotting the triggers and signs of mental health issues
Suicide and preventing crisis
Raising awareness of the importance of well-being in the workplace
Providing support in the forms of listening, reassuring, responding, resources, signposting and treatment right through to recovery
Being a point of contact for staff and mental health first aid planning
Enhanced interpersonal skills – mindful listening, speaking, non-judgement and compassion
Emotional resilience, self-care and energy vibrational levels
Boundaries and confidence to step in, reassure, support while keeping yourself safe
Prices are £225 per person including training notes, certification and book. 
 ——————-
Meditation Teaching Diploma (8 hours learning) £145 
Includes training notes, meditation scripts, online theory pack, half day practical assessment and certificate . Can be studied distance learning for advanced meditation practitioners – please enquire.
 ——————-
Online Mindfuless Diploma (distance learning qualification 70 hours) £699
Commence anytime – 12 months completion deadline
Includes training manual, feedback and marking of 10 assignments and certification 
 ——————-
Online Mindfulness Diploma (distance learning qualification 100 hours Schools option. £850 
Commence anytime – 12 months completion deadline 
Includes training manual, feedback and marking of 11 assignments, resource development support, mentoring, The Peaceful Classroom and  certification
 ——————-
Body Massage Diploma (100 hours) £899  – 12 months completion deadline 
Includes pre-course work, training manual, six practical visits, theory, homework, six case studies and certification 
 ——————-
Indian Head Massage Diploma  2 Day course £299 
Includes pre-course work, training manual, two practical visits, written exam, assessment and certification. 
 ——————-
Deep Tissue/Sports Massage (one day) £225
Includes pre-course work, training manual, practical assessment, written exam and certification. Candidates are required to have Level 3 in Anatomy & Physiology or Level 3  massage
Holistic Facial Diploma 3 days £450
Includes pre-course work, training manual, three visits, practical assessment, written exam, three case studies and certification.
 ——————-
All Reiki Courses are taught from Usui Lineage which requires no accreditation
Reiki First Degree (one day) Feb 2021 10am-4pm
£199
This day course will start you on your Reiki journey, you will study the history of Reiki, learn about energy, chakras and the Auric Fields. You will receive a Reiki attunement to align you with Reiki energy, enjoy meditations and the Reiki precepts. You will also learn the hand positions for working on family and friends before studying second degree to become a practitioner.  Each learner receives pre-course reading, full training notes, a Reiki book, a copy of my wellness book The Gateway, certification, Usui Lineage and access to Reiki shares.
 ——————-
Reiki Second Degree (one day) £235
Saturday 1st November 10am-4.30pm
Includes pre-course work, training manual, book, certification, attunements, knowledge of Reiki Symbols, Crystal Gift Set and working as a Practitioner with access to Reiki shares.
 ——————-
Reiki Masters (two days) £485 
Saturday 16th & Sunday 17th January 2021

Includes pre-course work, training manual, book, certification, attunement, knowledge of advance Reiki Symbols, pendulum and crystal work and access to Reiki shares .
Reiki Master Teacher Practitioner (two days) £600
This course is for Reiki Masters who wish to attune learners and run a responsible teaching practice through this lineage.
Private one to one tuition is available, please enquire for prices and available date.
If you are interested in a particular course and would like more information or an application form,  please click the enquiries button below. 
By Taking the Mindfulness Diploma through the Mindful Space Wellbeing Company has not only enhanced my own practice of mindfulness and meditation, but has given me a deeper level of understanding and with it, brought a confidence that has meant I have been able to help more people bring calm, inner peace and harmony in to their lives.
I cannot recommend Gail's online and attendance learning space she creates highly enough. I have found her approach the perfect balance of factual information and creative thought.  Thanks to her teaching I have taken time to read widely and gained so much more than certificates on my therapy room wall.  I cannot thank her enough for the opportunities for growth her courses provide.
I loved studying with Gail, the atmosphere was always warm and welcoming.  She was professional, friendly and approachable and I value her opinion and wisdom
I thoroughly enjoyed learning what Gail shared and it was very interesting.  Thank you so much for offering this course online and your guidance along the way
I was lucky enough to attend mindfulness training with Gail and it was amazing! Not only did it help to develop my own personal well-being but I was confident enough to deliver some sessions to start back in school and develop a scheme of work to teach my own class