Advanced Menopause Practitioner
"Did you know there are 13 million women in menopause in the UK at the moment, and more than 7 million feel that there's no help for them when it comes to managing the unwanted consequences of hormonal changes?" Jennifer Young Training (2022).
"Around 7 million women can't use or don't want to use HRT" Jennifer Young Training (2022).
"Menopause symptoms interfere with 85% of women's lives." Jennifer Young Training (2022).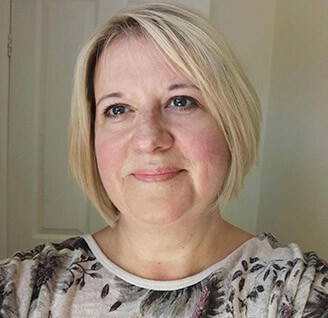 About me
After navigating my own perimenopause with limited support from my GP, conversations with fellow women showed that I wasn't alone in my journey. Every woman has a different idea of what a happy, balanced and healthy menopause looks like for her and I help women achieve this through my mentoring sessions. I have trained with Jennifer Young and my qualifications are accredited by The Federation of Holistic Therapists (FHT).
I have 26 years of experience within the well-being space looking at the physical and mental aspects of clients. I am not a medical doctor, so I do not diagnose, label or prescribe but I am trained as an advanced menopause practitioner and mentor, I have a Masters degree in Interdisciplinary Psychology, am a registered trauma-focused EMDR (Eye Movement, De-Sensitisation, Re-processing) psychotherapist and specialise in emotional regulation techniques such as EFT and CBT to ease  anxiety, panic and low mood which can occur during menopause.
What will you gain from Menopause Mentoring?
Up to date data and statistics around the menopause
Signposting to evidence based suggestions and treatments
Education around hormone biology
The 34 symptoms of menopause
The stages of menopause
HRT explained
Bioidentical HRT explained
Natural alternative suggestions
Hormonal Wellness information
Cancer Treatment and Infertility information
Medical Menopause information
Menopause Weight Gain and Nutrition signposting
Signposting to private Menopause specialists
Technology and resources to support your journey
A complimentary copy of my first book The Gateway
Emotional regulation techniques
Wellness balancing signposting
Focused and personal wellness support
A safe space to talk and share
Goal Setting
Action Plans
Support with emotional dysregulation
Reflection skills
Empathy from a skilled practitioner
Choices
Empowerment
Education and information
Raise awareness of the conversation around menopause
Validation
Want to get your sparkle back?
Initial consultations are up to 90 minutes which includes a complimentary book and a wellness gift pack £75
Subsequent hourly sessions are £55